Get Your Lubbock, TX Home's Heating System Fixed Today!
Is your heating system failing to keep your home warm during the winter? Is it producing a strange noise or smell? Will your heating system not start at all? If you are experiencing any of these problems, we can assist you. Our team of HVAC technicians are highly skilled and trained on all types of heating repair services. We repair heating systems such as ductless mini-splits, furnaces, heat pumps and forced air systems. To learn more about getting your unit repaired, give us a call at  806.795.1207  today!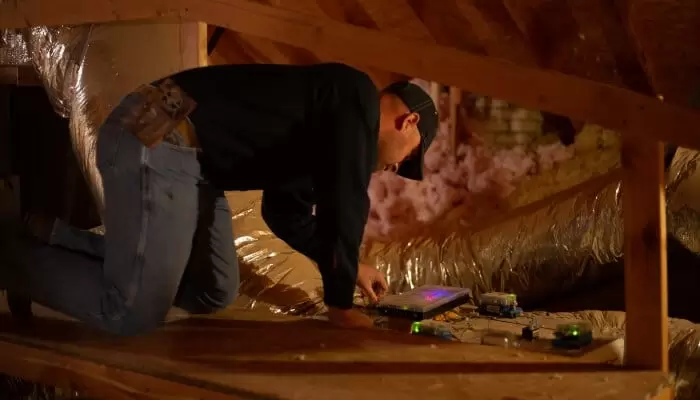 What do I check if no heat is coming from my furnace?
Make sure the thermostat is set correctly by checking it. Set the fan to "auto" and the thermostat to "heat." To see if the heat comes on, set the thermostat 3 to 5 degrees higher than the room's current temperature.
Make sure that in the rooms where you want the heat, all vents are open. Additionally, make sure the filter is clean by checking the cold-air return. Filters that are soiled accumulate dust and must be cleaned frequently to function properly. Replace the filter if you are unable to clean it.
Make sure the gas valve is turned on and supplying the fuel needed to produce heat. The valve's handle is parallel to the pipe when it is turned on. When it's not working, it's parallel to the pipe.
If the furnace is powered by gas or propane, you must reset it in accordance with the owner's manual. Normally, to complete a reset, the reset button or switch must be turned off for five minutes before being turned back on. Make sure your furnace's pilot light is lit if it has one. If not, reset the pilot light according to the manufacturer's instructions. In pilot-less furnaces, if after performing all of these steps the furnace still does not produce heat, a new igniter may be needed.
Why is my furnace blowing out lukewarm air? 
Your heater may be producing lukewarm air as a result of a duct leak. Cool outdoor air is entering your ductwork if your air ducts are leaking. The result may be that the air feels only lukewarm. Duct sealing is the fix.
Should I repair or replace my furnace?
Unfortunately, even the best heating systems eventually wear out. The U.S. Department of Energy estimates that a furnace should last 15 to 30 years before needing to be replaced. The brand, furnace quality, and a number of other factors all affect this, of course. However, during this time a heater will typically start to show increased signs of wear, which will result in more frequent and expensive repairs. It might be more cost-effective to replace the furnace with a more modern system rather than continuously keeping an eye out for repairs on an old system.
Signs You're In Need Of Heating Repair
There are various signs that you may need a heating repair, including:
Your home is not heated evenly.
Your heating system runs but doesn't fully heat your home.
Your heating system's pilot light is yellow.
Your heating system is making strange noises or producing odd smells.
You're seeing an unexpected increase in your energy bills
Obviously, these aren't the only things to watch for, but if you're experiencing any of them, it's a good idea to let one of our professional techs take a look.
Types Of Furnace Heating Repairs
If you are experiencing issues with your heating system, you may notice signs that can indicate what is wrong with your furnace or heat pump. Some things that could be broken on your heating system are your flame sensor, ignitor or relay switch. More costly issues usually are related to the malfunction of the heat exchanger, blower motor or condenser.
The Importance Of Quality Heating Repairs
When you get your heating system repaired right away, you can keep repair costs low in addition to protecting your system. Heating systems consist of components that work in unison and require other parts to properly function. When left running with a broken part, it will take a toll on your heating system since it will be trying to operate while the internal components do not work together as they should.
Regular Maintenance Can Reduce The Need For Future Repairs
One of the best ways to reduce the number of repairs your furnace or heat pump needs is to get it serviced on a regular basis. Regular maintenance will help reduce the occurrence of surprise repairs that can arise throughout the year. Additionally, keeping your furnace or heat pump clear of dust and dirt can help allow it to run more smoothly and not become worn out as fast. If you think you need repairs or are thinking about replacing your system, message us online or call  806.795.1207  today!