All About Your Local Lubbock Area HVAC Contractor
Hart Heating and AC was started by Keith Hart in 1995. Since then, we have been proudly offering HVAC and home comfort services to Lubbock County, TX and the surrounding cities.
We stand behind our repairs and go above and beyond for our customers. We know how nuanced HVAC repairs and replacements can be, which is why we are proud to offer our customers various solutions. To learn more about us and our heating and cooling services, call us at  806.795.1207  today.
Our willingness to go the extra mile is why residents of Lubbock and the surrounding area consider us their trusted HVAC contractor.
Our Customers Are Our Top Priority
We know that keeping your home comfortable and safe all year long is not as simple as one may think. We have designed our services with your home care needs in mind in order to keep your home protected and operational. We will go above and beyond to diagnose your HVAC or other home care system to find the root of the issue.
Total Home Care Solutions For Better Living
As your local HVAC contractor, we specialize in the following home care, heating and cooling services: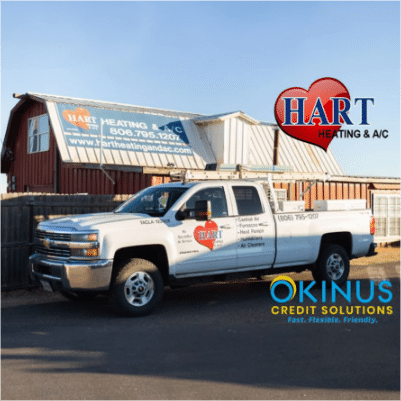 Dedicated To Serving As Your Top HVAC Contractor
We pride ourselves in offering full service HVAC and home care solutions to cover all of your home needs. Our qualified technicians are trained to be able to properly assess your systems and come up with a solution to your problem that will get your HVAC or other home care system functioning smoothly once again.
Why You Should Choose Hart Heating & AC
Some of the reasons our customers consider us their number one HVAC contractor include:
We provide accurate upfront quotes.
We prioritize our customers above everything.
Regardless of the HVAC service you need, we have you covered.
We offer affordable financing options for your new installation.
To find out more about Hart Heating & AC and our quality HVAC services, message us online or call  806.795.1207  today!