Air Conditioning Repair, Maintenance & Replacement For Your Lubbock, TX Home
Is your air conditioner blowing hot air? Have you noticed your cooling bills increasing? Is your air conditioner cycling on and off frequently? These are all signs that your air conditioner probably needs to be repaired or replaced. Keep your home comfortable and healthy by keeping your air conditioner well-maintained and prepared. Whether you have a central AC unit, ductless mini-split, heat pump or air handler, we have you covered. At Hart Heating & AC, we can help you determine whether your air conditioner needs to be replaced, serviced or repaired. To get our air conditioner services, call  806.795.1207  today!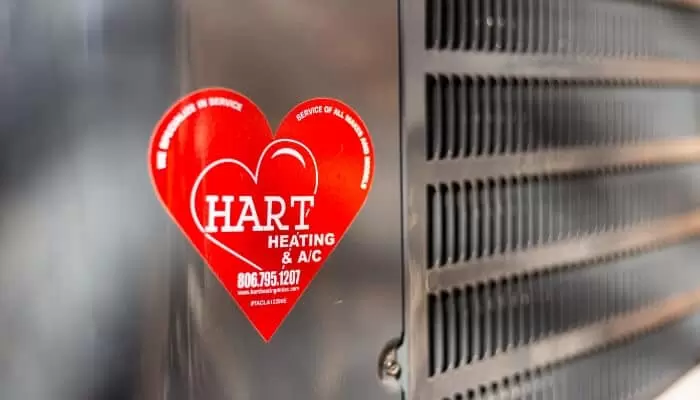 Why did my home air conditioner stop working all of a sudden near Lubbock?
Check your thermostat and make sure it's set to cool and verify the temperature setting is lower than the temperature outside. Then determine if the problem is caused by a blown fuse or a tripped circuit breaker. If your air conditioner turns on and your thermostat is adjusted correctly, but your system still doesn't cool, you might have a dirty or blocked air condenser. The first step is to inspect the exterior unit and clear up any trash or weeds that are obstructing airflow. After that, make sure your air filter is clean. The filter is frequently dusty, and when it inhibits airflow to the evaporator coil, the coil might freeze. If you've done all of these things and your AC still isn't working, call in a professional.
What happens if my home AC unit is not serviced near Lubbock?
Failing to keep up with your AC maintenance can lead to frequent breakdowns and a shorter working life. Even if nothing appears to be wrong, periodic maintenance might expose hidden faults in the system, allowing you to take remedial action before things become worse. Your HVAC professional will be able to discover any parts that are broken or worn out, as well as perform any essential repairs that, if left unattended, might become very costly.
Why is my home air conditioner on but now blowing air near Lubbock?
If the air conditioner is on but no air is coming out of the vents, you're probably dealing with a fan capacitor that has reached the end of its useful life. Fan capacitors aid in the operation of your HVAC system's outdoor and interior fan motors, as well as the compressor. A bad capacitor needs to be replaced to ensure the proper function of your AC; it typically costs around $250 to replace your fan capacitor.
Should I turn my AC off if it's not cooling?
Yes, you should turn off your AC if it's not cooling. Continuing to run the AC when it's not working properly can cause further damage and increase energy consumption without any benefit. Before turning off the AC, it's a good idea to check if there are any obvious issues like a dirty filter or blocked vents that can be easily fixed. If the problem persists, it's best to call a professional technician to diagnose and repair the issue. Regular maintenance and timely repairs can help extend the life of your AC and ensure its optimal performance.
What Air Conditioning Services Does Hart Heating & AC Offer?
At Hart Heating & AC, we offer the following air conditioner services to keep you cool throughout the year:
Air Conditioner Repair
Air Conditioner Replacement & Installation
Air Conditioner Maintenance
Air Conditioning Repair Services
Regardless of how old your air conditioning system is or how often you maintain it, a few repairs may be needed here and there. We offer AC repair service near Lubbock to solve the issues your air conditioning unit is experiencing. Getting your AC unit tuned up or serviced often is a great way to reduce the number of repairs your AC system needs and to catch repair needs early on while fixing your AC will be relatively inexpensive.
AC Replacement & Installation
If your AC system is reaching the end of its lifespan or it is breaking down frequently, you should think about having it replaced. In the long run, a newer and more efficient unit can offer you better cooling as well as lower energy bills and repair costs. However, it can be hard to determine when you should replace your air conditioner, which is why we provide you with professional advice every step of the way.
Air Conditioning System Maintenance
To keep your home's air conditioning system from needing as many repairs, it is good to have your AC unit serviced on a consistent basis. Regular AC maintenance can decrease the frequency with which your air conditioning system requires repairs and it can lower your monthly energy bill. In addition to those benefits, it can also help your AC unit last longer.
How Do You Know If It's Time To Replace Your Air Conditioner?
Depending on the following factors, you may need to get your AC system replaced sooner or later:
If you have the right size unit for your home
How often you use your AC unit
The age of your air conditioner
How often you have your AC unit maintained
Some air conditioning systems last longer than others and some are more compatible with different climates, making them wear out faster or slower. To learn more about our cooling services, message us online or call  806.795.1207  today!